Paid Links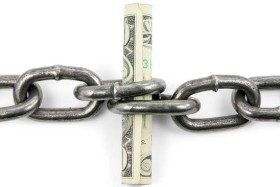 Paid links are links from other websites purchased solely for the value of the link rather than for direct clicks. Paid links have become so popular that auction sites have sprouted up for just this purpose and they can even be bought on eBay.
There is no particular problem with paid links per-se however I would recommend applying the same criteria that you would to reciprocal links. If you are going to purchase links, only purchase them from related sites and try to make sure the link is not buried down at the bottom of the page.
Run-of-site links (links that appear on every page) are not significantly more valuable than single links on the homepage other than for the traffic. If you've purchased a link in a good location and on a good site you're likely to get some good traffic from it. In fact, this is the general rule I go into any paid link arrangement with – purchase the link for the traffic. If the link increases my PageRank it's a great bonus but if I've bought the link for the traffic and I'm getting it, then the link value becomes secondary.
There are two types of most popular payed links, contextual links and standard links. Contextual link is one in which the clickable text is made up of a keyword phrase you want to obtain a page one listing for in Google.
Standard link is an anchor text with a hyper link to a destination website, it is some lower quality then contextual link when listed by Google, but never the less still the main and the most commonly used.