WP Newsletter

WordPress Newsletter, or WP Newsletter plugin is something we are currently working on.
You can download the Beta version and try it on your wordpress site.
Download WP Newsletter
DESCRIPTION
WP Newsletter is a very flexible plugin that helps you to send mails to all your WordPress commenters, registered user and the specified post's comments.  You can set the plugin to send mails to users that registered to your website, people that commented on your posts, or to a group that has commented on a specific post.
INSTALLATION
Unzip the wp-newsletter.zip file.
Upload wp-newsletter folder to the /wp-content/plugins/ directory
FAQ's
1. How can I be sure that is working correctly?
Check your smtp server and see if it is started.
2.  How can I configure Sender email?
You can configure it by changing your website email address in <-General Settings section. Once you have sent all mail, you can changed it back.
SCREENSHOOTS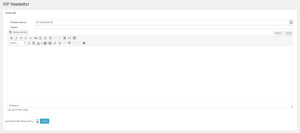 Next step in our plugin development is enabling loading mail addresses from an external database or importing it from an excel table.
Also, we plan to create a number of Newsletter templates to use with the plugin.